About
RePercussion Drums is a small company based in the shadow of Glastonbury Tor in the south west of the UK, specialising in making bespoke stave construction snare drums and full kits.
Founder, Andrew Johnston, has a passion for building hand crafted musical instruments from timber that has an interesting provenance and timber that has already served a relevant purpose.
We are a firm believer that timber of this nature absorbs the soul and history of a place – it absorbs the historical patina…..but sound, high quality sound - is front and centre to the RePercussion Drums ethos
We use only the highest quality timber and fittings, enabling our clients to create drums with an individual and unique voice.
All our shells are built from solid wood, using the stave construction method, producing great breadth of tone and musicality. Stave shells are not bent during construction, allowing the wood to sit and resonate naturally, since the shell is not under stress. Each drum is made from a single piece of wood to ensure consistency in tone and timbre.
Stave construction drums are very versatile, with huge tuning ranges and different timbres, depending on timber type, shell thickness, bearing edge design, depth, hardware etc etc.
Each drum is tested for its fundamental note before any hardware is applied, ensuring the highest quality of finish and optimum playabilty.
Bearing edges and snare beds are to customer specification and hand cut. We prefer to use Trick Throw offs and Puresound wires.
We are on a mission to find wood that can tell its own story. Join us in this exciting journey.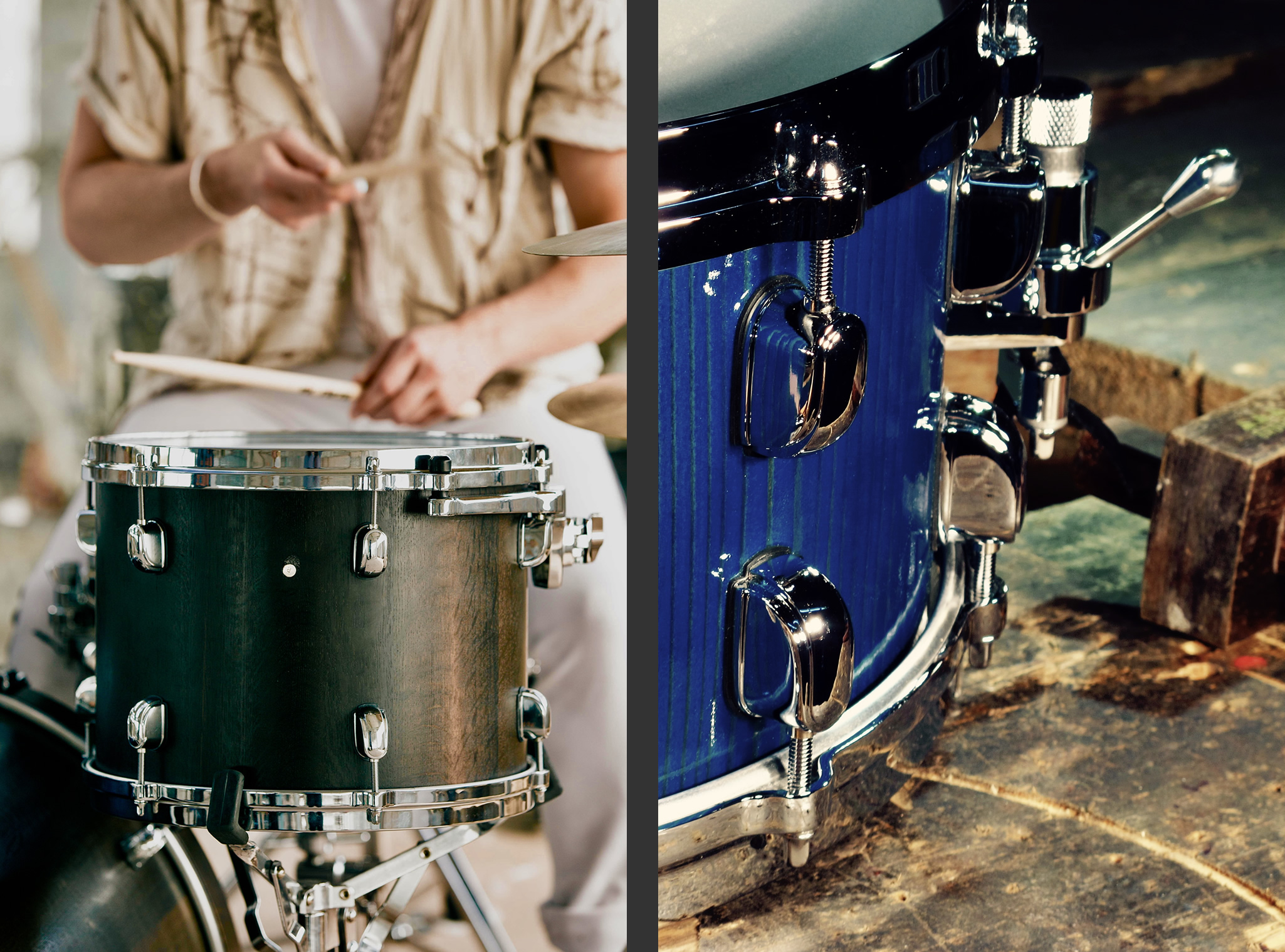 "I am really chuffed with my Repercussion snare. I love the story behind the drums and the craftsmanship but most importantly, it sounds amazing!"
Jack Bevan, Foals
---
"Andrew kindly lent me a bog oak snare drum and I instantly fell in love with it, and had to have it. Andrew's attention to detail is astonishing. He's not just an instrument maker, he's a true artist. These drums are unlike anything you've played before and I highly recommend that any musician/producer/collector invests some time and plays one."
Justin Welch, Elastica, Suede, Lush and Piroshka
---
"The finest snare drum I have ever played, stays in tune perfectly especially during live shows, the sound I've been looking for 25 years…!!"
Simon Gilbert, Suede
---
"I love these snare drums!!! They sound fantastic, they're built by an English craftsman, and every drum has an incredible history that will make you proud to play them. I've already added one Repercussion snare to my drum arsenal - and it won't be the last. I'm proud to endorse these snare drums"
Mat Hector, Iggy Pop
---
"I am most impressed by the high quality of craftsmanship Andrew employs to his snare drums. He engages with players from different genres in order to constantly develop the design and ultimately the sound possibilities of his creations. One can be sure that any of Andrew's drums will be a drum for life."
Dame Evelyn Glennie CH, DBE
---
"This is an excellent snare drum in my opinion and it was great fun to play. The drum also looks interesting and has a cool backstory to it as well"
Mike Dolbear.com
---
"Andrew's snare came to Real World Studios and impressed both engineers and musicians alike. He is passionate and knowledgeable about his drum kits, which are beautifully designed and made."
Peter Gabriel's Real World Studios, Bath UK
---
"Of all the kits I've played, the RePercussion kit has the biggest, fattest sound of all. The snare sounds sweet across its huge tuning range and the rest of the kit has great tones and punch. It sounds amazing in any space and on any stage. I love playing this kit!!"
Jimmy Wood, JJ Rosa
---
"Andrew was kind enough to bring a 5,000 year old bog oak snare for me to try on a gig. I was immediately impressed with the sensitivity of such a deep drum. It responded really well to a wide tuning range and had an amazing crack to it even when tuned low. Andrew's craftsmanship, attention to detail, and passion for what he does is embodied in these amazing drums. The fact that the wood for each drum has such a great story makes these great collector items as well as being true working drums. "
Joe Crabtree, Wishbone Ash
Drums
All snares are made from a single plank of wood and we only use the finest, quarter sawn tone wood.
We are also in discussions to acquire timber form some of the UK's most iconic music venues and from historically important locations…watch this space.
Each drum is hand crafted and numbered and will carry the RePercussion Drums badge – an 10mm sterling silver bar let into the shell (see pics).
Prices start from £700. We deliver worldwide.
San Quentin Series
We have recently acquired an 8' Douglas Fir beam removed from San Quentin Prison Hospital in 2008. This has been quarter sawn and we expect to get three snare drums from this historic piece of timber. Fans of Johnny Cash and Merl Haggard will know that the former played a series of ground breaking concerts in the 60's. Contact Andrew to secure one of these historic snare drums. We believe that this is the last intact beam from the prison hospital refurb.
Sub Terranean Series
Snare drums made from bog oak, sourced from the UK. This finite resource has been radio carbon dated at between 4,800 years and 5,200 years old, when the UK was heavily forested, woolly mammoths were wandering the plains and humans were still using stone axes!
Sub Terranean Series Full Kit
A recently built 'Sub Terranean' kit was built from a single tree to ensure consistency in [musical] colour, wood density and grain pattern. We believe that this is the world's first full kit from English bog oak.
Scrumpy Series
A small series made from a reclaimed cider press dating to the early 20th century. Traditionally, the base and pressure beams of large presses were made from English Oak and Elm (called the Winter and Summer beams). Can't wait to get this small series in production.